It is with great excitement that I begin my time with Hope United Methodist Church!  My passion is for people to recognize God's activity in their life every day.  I believe it is vital to see that God's word speaks to and intersects with our life daily.  Finally, I desire for each person to know that they are "hand crafted" by God, loved more deeply than can be imagined, and afforded the opportunity to spend eternity with God.
With this in mind, I invite you to come gather with other believers and non-believers, mature disciples and persons still searching; to experience God through relationships that connect us to God and others, Grow in knowledge of God and ourselves and Children of God, and our ever expanding ability to love God, ourselves, and others.
Rev. Michael S. Swimley
Hope United Methodist Church
1623 Main Street
Port Trevorton, PA 17864
1-570-374-1864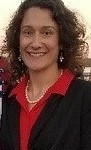 Hello everyone! I would like to take this opportunity to introduce myself and share my education, experiences, and teaching philosophy with you. As Music Director of Hope United Methodist Church, I always look forward to the exciting plans God has in store for worship. A personal goal for me is to allow everyone to have a positive and exciting experience as they grow in their knowledge and appreciation for music and most of all, grow in their relationship with God!
I am a Port Trevorton-Selinsgrove native and also a 2005 Selinsgrove Area School District graduate. I am a summa cum laude graduate of Susquehanna University with a Bachelor of Music degree in Music Education with double concentrations in voice and clarinet in 2009. I have a Master of Music in Music Education from Kent State University with a concentration in voice and general music. I enjoy accompanying and performing on piano, teaching various instruments and voice through my private studio in Port Trevorton, performing, and developing new methods of music education. Throughout college, I was an active participant of the band, choral and orchestra ensembles, chamber ensembles, and student performances such as opera and recitals. I directed and performed in many musicals throughout my career. I also toured throughout Europe with a performing music organization called Sound of America in 2004. When not directing a musical, I enjoy performing as a pit musician. I have performed as a clarinetist, keyboardist, and saxophonist in several musical pits over the past 4 years.
After completing college, I married my High School sweetheart, Alex Ulsh, in 2009 and started a K-5 Long-Term Substitute Vocal/General Music Teacher position at Middleburg Elementary School. After that position ended, I began my new position at Shamokin Area Middle/High School as the 7-12 Middle/High School Choral Director and Musical Director. However, due to furloughs throughout the district, my position ended after two years. I was briefly employed as the High School Choral Music Teacher at Our Lady of Lourdes Regional School for three weeks before I accepted a position as the K-6 General/Choral Music Teacher at Mount Carmel Area Elementary School. After three years there, I accepted a new position as the 5-8 General/Choral Music Teacher at Susquenita School District in Duncannon. I also completed a Master of Music in Music Education from Kent State University during 2013-2015. After all these wonderful and enriching experiences, I finally accepted the position of High School Choral and Musical Director at my "home" district in Selinsgrove and to quote Wicked, the musical, "I couldn't be happier"!
Being a music educator and the Hope UMC Music Director are not the only adventures I have pursed. I am also a mother of two children, Nova and Owen and my husband and I were active Emergency Medical Technicians (EMTs) with Dauntless Hook & Ladder (DH&L) Ambulance League here in Selinsgrove for several years. We currently do not run with the league due to lack of time, although we do miss it!
As a teacher and child of God, I am very enthusiastic, driven, and creative. I thoroughly enjoy developing new methods and activities needed to engage all people. I have successfully collaborated between music and different subjects and enjoy finding innovative ways to incorporate music throughout all educational and spiritual avenues. I have an extraordinary passion for music education and God and seek to inspire that passion in others.
As the Music Director of Hope UMC, I hope to inspire those of God's flock to use music as a means to become closer to God. We, as a choir and praise team, welcome anyone who would like to join the choir or praise team, even for just one Sunday. Feel free to contact me at any time to obtain more information about music at Hope UMC. Praise God!
Rachel F.W. Ulsh